Tenerife Golf Guide
The volcanic island of Tenerife is dominated by the stunning Mount Teide. This is the site of arguably the finest yet most challenging golf courses in the Canary Islands called Abama Golf Club.

Abama Golf Club


The golf course works its way up the west face of Mount Teide before you turn around and enjoy some unbelievable views of the Atlantic Ocean and over to the island of La Gomera. Abama Golf Club is a Dave Thomas design and is renowned for its tricky greens….higher handicappers can expect a 3 putt to be a common affair if out of position. The course is a joy to play with some true camera golf shot moments particularly when playing back down the side of the mountain. This is a true buggy golf course and one is included in your green fee. After your amazing Abama experience, enjoy a beer and some incredible food on the clubhouse terrace and enjoy that view! You can choose to stay onsite at The Ritz Carlton, Abama, an impressive 5-star hotel.
Costa Adeje Golf Club

Another of Tenerife's best golf courses is Costa Adeje Golf Club, in our opinion. A great 27 hole set up and unlike the tougher challenge of Abama, it's a very good balance of championship-style golf with more score making opportunities than Abama hands you. Costa Adeje is one of the golf courses that simply must be included in your golf holiday itinerary in Tenerife. There are some exhilarating golf holes heading towards the coastline and some really good holes where you need to plot your way around. The club has a friendly atmosphere and a very warm welcome. Do not miss it.
Las Americas Golf Club



An inland course and another of Tenerife's must-play courses if seeking a more holiday golf experience. Las Americas Golf Club is well thought out and is one of those courses you would happily play again and again during your golf holiday. A popular members golf course and with some really enjoyable holes, it is not a long golf course by more modern championship set ups and therefore has a certain appeal to it. It is more target golf. You receive special treatment if staying in the neighbouring Las Madrigueras Hotel where you can enjoy your own buggy and unique access to the golf course direct from the hotel garage straight onto the fairway!
Buenavista Golf Club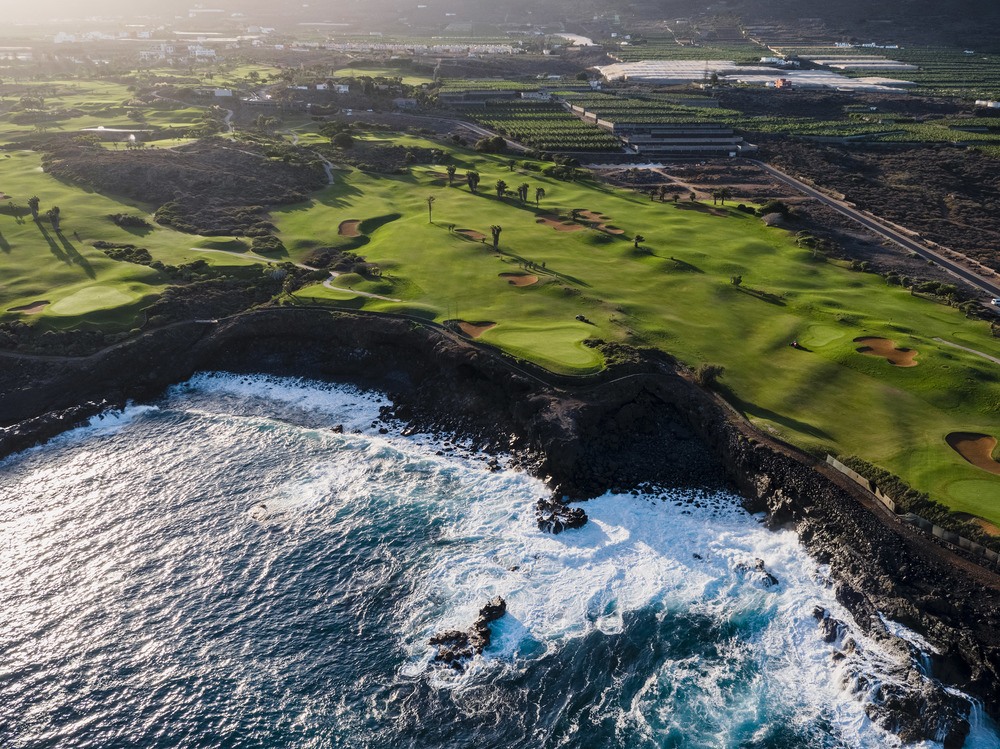 Quite simply one of the very best golf courses in the Canary Islands. It is a must-play and well worth the day trip – the course is around 1-hour drive from Las Americas and the popular South west of Tenerife. Buenavista is a Seve Ballasteros masterpiece and arguably one of his best designs. In typical Seve style, the course has 6 par 4s, 6 par3s and 6 par 5s. The piece of land that Buenavista Golf Club is built on is truly unique – you have the mountains to the back of you, the crashing waves of the Atlantic ahead and the incredible cliffs of the North West Coast to the side. There are some gettable par 5s and scores to be made but then the course takes them away on some of the trickier par 3s. We absolutely love it and sure you will too! If you want to enjoy complete escapism and play golf on Buenavista Golf every day (which we recommend!) then stay at the onsite Melia Hacienda del Conde hotel – they also own and manage the golf course and have some brilliant value luxury golf holiday packages.