Pebble Beach Golf Holidays
Pebble Beach is without doubt one of the most well know and iconic golfing resorts/destinations in world golf. The Monterey peninsula is just over 2hrs drive from San Francisco airport and once there, you are in a true golfing paradise.
Where to stay in and around Pebble Beach
When staying in and around Monterey, there are various options for accommodation;
Casa Palermo
Hotels in Monterey
Hotels in Carmel
Should you wish to access and guarantee tee times on certain golf courses, there is a 3 nights minimum stay at one of the Pebble Beach properties. This grants access and residential rates at;
Pebble Beach
Spyglass Hill
The Links at Spanish Bay
Del Monte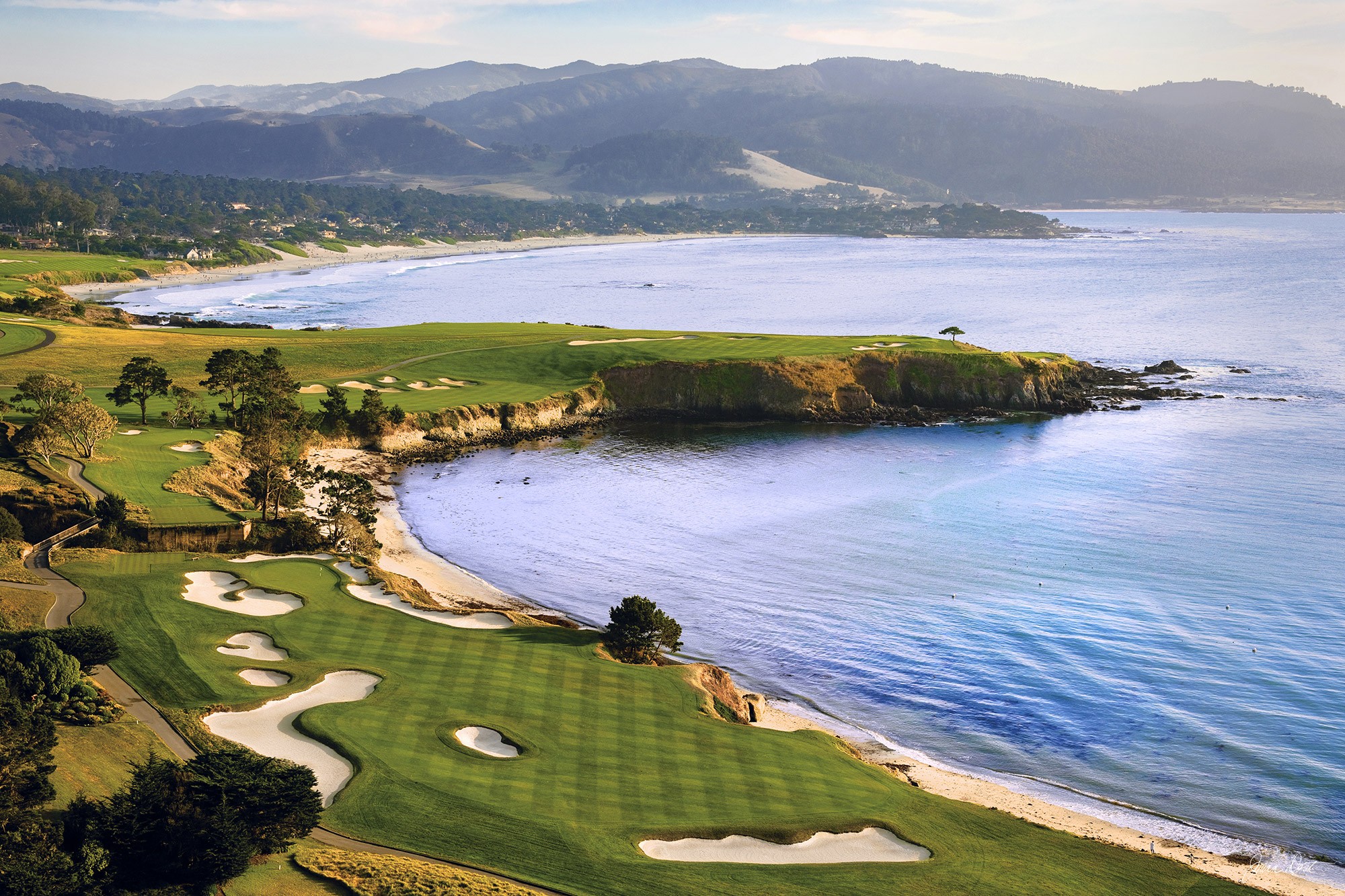 The Inn at Spanish Bay
I stayed here for a couple of nights and of the 3 Pebble Beach properties (Casa Palermo, The Lodge and Spanish Bay) it is the lead in property. This means in effect it is the cheapest. With that said, it is fabulous. Inside is very modern with a nice choice of bars and restaurants. A free shuttle service runs between the 3 hotels and to the affiliated golf courses (mentioned above) so there is no need to drive if you do not have a car or perhaps had one too many the night before!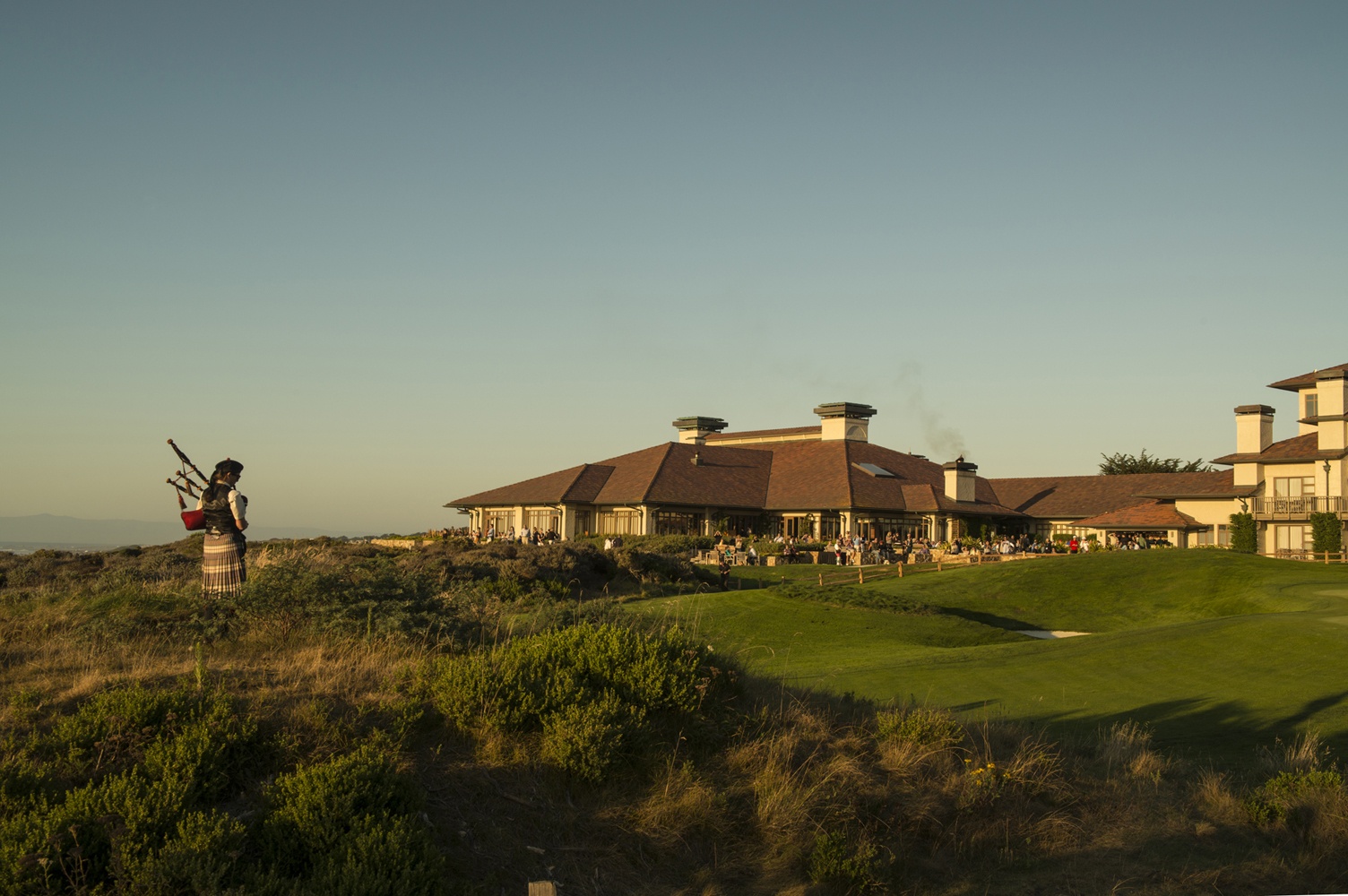 Is Pebble Beach as good as people say it is?
From the moment you arrive, you know you are in for a special day. The driving range is first class and your pyramid of Talyor Made TP5's are ready waiting. Then it's off to the 1st tee! The course itself is a fairly gentle start through the trees and that covers the first 5 holes. From the 6th to around the 10th you are along the cliff and the views are simply spectacular. 11th to 16th is back into the trees and then the iconic 17th and 18th to finish. Again, as with Spanish Bay, you can sit out at the 18th green by the firepit and enjoy a lunch/dinner and some drinks. Perfect way to end the day after a round and you can reflect on it all. In summary, the history, atmosphere and scenery here will leave you wanting more.
The surprise of the trip (part 1)!
Rightly or wrongly, I travelled with a preconception of some of the golf courses. Pebble Beach was everything I wanted it to be and more. Spyglass was and is a little quirky. Of the golf I played, it is the one I would really like to play again as I think having played it before would assist the 2nd time around. Spanish Bay really did take me by surprise. The views on pretty much every single hole were tremendous and the golf course is super too. It's a proper links golf course, plays fair and so if you play well, you will score well. All topped off with a piper playing the last group off the 18th green around 8pm at night. Magical stuff.
More top golf
During my week in the West Coast, we decided to break the trip up to see as much as we could. We stayed for 3 nights in Monterey, followed by 2 nights in Spanish Bay. After that, a night in San Francisco with some sight-seeing, a final game of golf and home. Other golf courses and things to do include;
Poppy Hills
Pasatiempo
Harding Park
Surprise of the trip (part 2)!
Without a doubt, this would be Pasatiempo which was designed by Dr Alister MacKenzie (who also designed a special little place called Augusta National!). Pasatiempo is a gem of a golf course. It is a little up and down in places but with a buggy included, that's not an issue. As with August National, some of the greens are small, sloping and fast. It really does make for an exceptional experience and a day out that you and your party will never forget. It's one course I think I must play again before the golf clubs are retired forever!
Things to do when you are not golfing
17 mile Drive for exceptional views
Visiting and exploring Carmel and Monterey
Lombard Street in San Francisco
San Francisco Giants baseball
Alcatraz
The Golden Gate Bridge
Flights to San Francisco
With direct flights from London, along with connecting flights from many regional airports via London, California is very accessible all year round. If you fly from the likes of Glasgow, Manchester or Birmingham, options exist via London and New York for example.
The best time to visit Pebble Beach and the Monterey peninsula would be from May to October when the weather is great for golf but also allows for days and the beach or general walking out and about.
America is a big place with lots to offer so you really are spoilt for choice. Other resorts like Kiawah Island, Pinehurst, Hilton Head and August for the Masters are all big hitting contenders and Pebble Beach would fall firmly into that bracket too. A must see!
Visit here for more information and golf holiday deals to Pebble Beach.
Gordon
Our team of experts are on hand to help tailor-make your golf trip
Call us on 0800 756 7715