Barceló Montecastillo
Set just on the outskirts of the Jerez, Barceló Montecastillo Golf is the perfect blend of a resort and a city golf holiday. The 5 star hotel offers everything that you would need on site. There are an abundance of different room types, along with Villa options to consider also, where you can stay on either Bed and Breakfast, Half or Full Board and All-inclusive.
The Hotel
All rooms have their own balcony that own views of the surrounding countryside and some overlook the pool. There are also plenty of golf view rooms available for a small supplement, should you want to see how it should or shouldn't be done by other visitors.
There is plenty to keep the golfers and non-golfers happy on site. There are newly renovated driving range and short game practice areas to hone your skills or take out some of the frustrations of a bad round. While the non-golfers have a brilliant spa, tennis courts, indoor and outdoor pools at their disposal. Or a short taxi into Jerez to sample some of their world-famous Sherry (the translation of Jerez is Sherry!).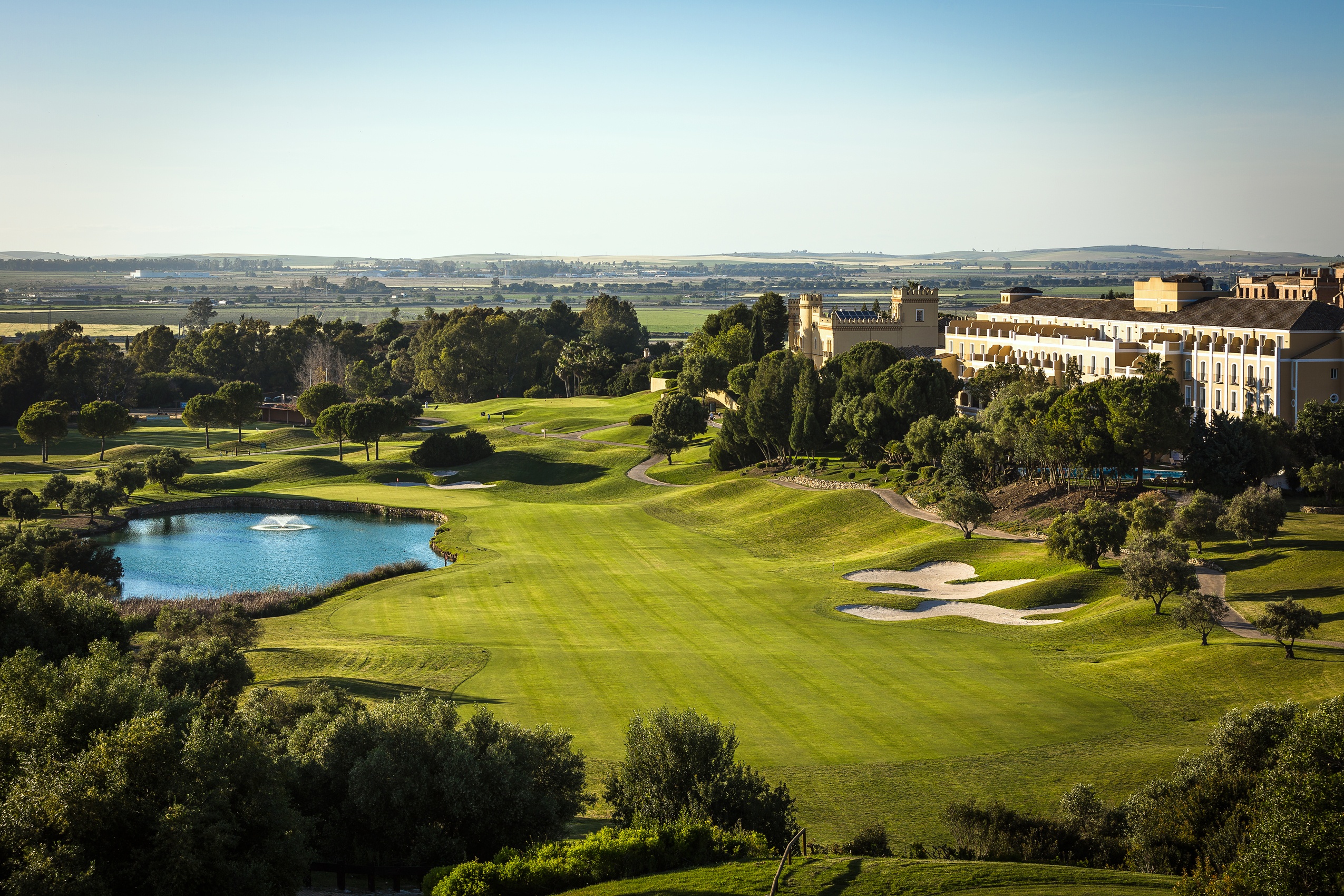 Golf
A 5-time host of the Volvo Masters from 1997-2001, this Jack Nicklaus design course is one that can be played time after time, without shedding an ounce of enjoyment. All holes are a puzzle to work out from the tee, with risk vs reward shots teasing you on numerous occasions.
It is not the longest golf course that you will ever play, some of the holes play much further than the scorecard indicates with approaches into elevated greens, where the bottom of the flag is another riddle to try and solve. Due to the many elevations and some walks between greens and the next tee, a buggy is advised (mandatory if playing before 11am). The course is still walkable, but I would advise against it every day, unless you have magnificent calves like Phil Mickelson or my colleague John Paton. You are there to relax, enjoy the golf and the surroundings, treat yourself to a buggy and let it do the heavy lifting for you.
With some drastic uphill holes, there is always the great benefit when playing back down the way. The most welcoming and picturesque tee shot is undoubtedly the 18th, with stunning views well beyond the hotel. The tee shot is so inviting, yet so intimidating, with water down the left side ready to punish anything too aggressive and 2 huge bunkers on the right to capture anything too safe. Hitting the fairway will likely ensure you have a safe passage to some part of the green over land. However, if the pin is cut on the left side then you will need to fly the wet stuff to have any sort of birdie chance. It is simply a brilliant finishing hole from start to finish.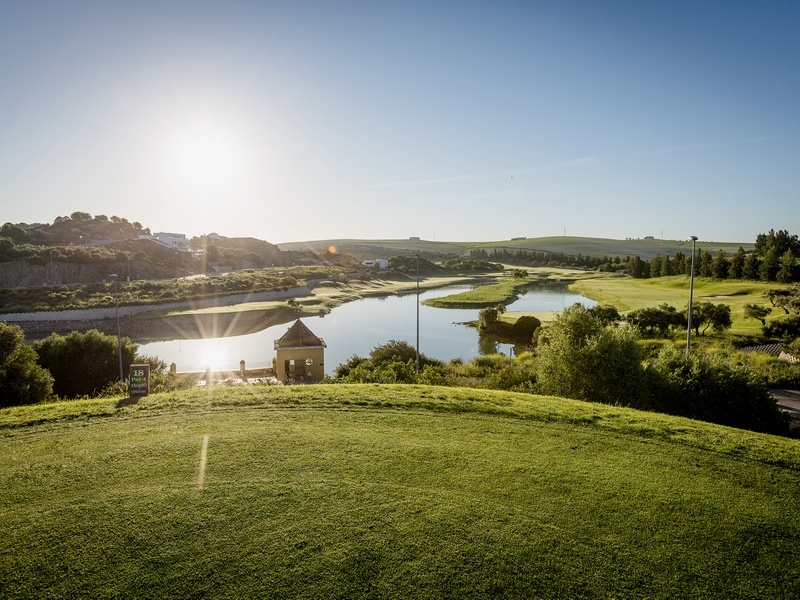 Highlights of Barceló Montecastillo Golf
Superb daily golf right on your doorstep
Brand new golf practice facilities
Very friendly, knowledgeable and attentive staff
Close to Jerez City
Selection of villas
Spa
High quality all-inclusive program
Stay & Play in Jerez area
If you are wishing to play another course, less than 30 minutes away is Sherry Golf for a real test of golf. Lots of water and testing terrain give amazing views of the surrounding area.
There are also courses down towards Cadiz to choose from; Golf Novo Sancti Petri, Villanueva Links Golf, Golf La Estancia and more. My choice would be to head East for the day and play Costa Ballena Ocean Golf Club. Depending on how keen you are, you could opt to play all 27 holes that it has to offer. Or, you could play your desired 18 in the morning and then spend the afternoon on the stunning beach only a couple of minutes away from the clubhouse. Costa Ballena is also part of the Barceló group, so there are great combination golf packages to include some offsite golf at preferential rates.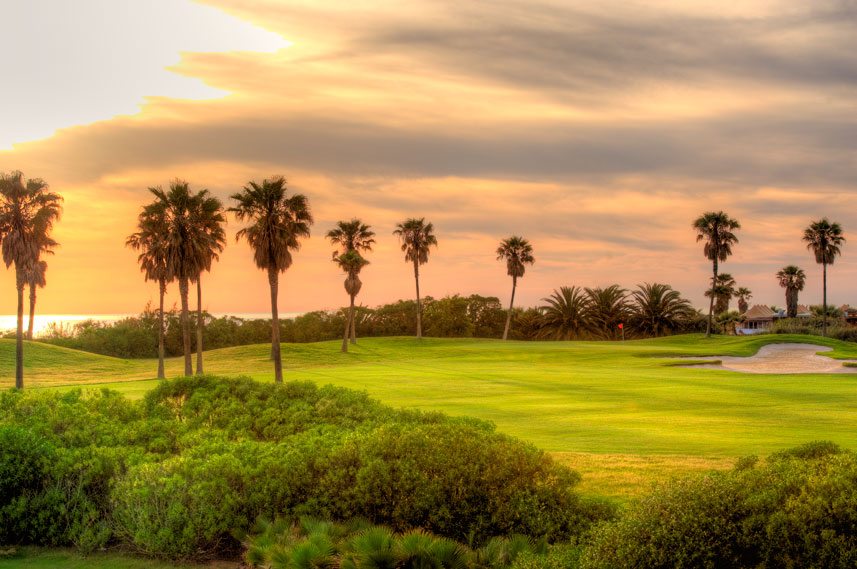 What flight options are there to Jerez area?
Montecastillo is perfectly situated, only a 15 minute transfer from Jerez Airport. There are direct flights into Jerez from Manchester, Gatwick and Stansted, this means you can be on the 1st tee as little as an hour after touching down on Spanish tarmac! There are also plenty of UK airports and carriers that fly into Seville and Gibraltar. Transfer times are just over an hour from both.
If you fancy something a bit different, why not travel in early-May and take in the Jerez Horse Fair. Hotel rooms in the area book up far in advance for this annual spectacle – so you might even get the whole golf course to yourself some days!
View more information and golf break deals to Barcelo Montecastillo
Fraser