La Manga Club Resort, Murcia, Spain
One of the most recognisable names for golf resorts throughout Europe – La Manga offers you everything you need in a golfing trip – and more!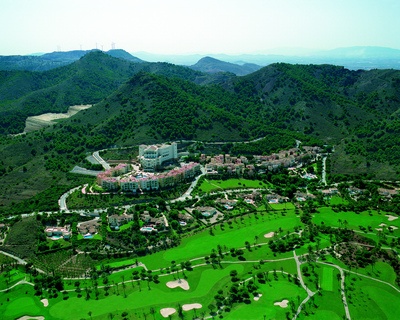 Where to stay
There are a couple of ways for you to live at La Manga – either in the 5* Hotel Principe Felipe or in the 4* Las Lomas Village Apartments.
This hotel is truly excellent and ideal for couples. Step into the grand entrance and you're automatically impressed – and this wow factor just gets better when you get to your room. All rooms are very spacious on the inside with a balcony that allows you to stand and gaze out to the resort. My recommendation is to upgrade to a Terrace room – allowing you to sit and enjoy your time when you're not on the golf course or using the hotel facilities. The facilities in the hotel are plentiful too – enjoy a beverage at the piano bar or some fantastic food at the in-house restaurants.
Perfect for groups of all sizes or those who just like their own space. These apartments are very spacious and give everyone their own personal space, making it feel like a home away from home. The option of a townhouse is great too as you can get the group round to enjoy a few drinks before dinner on the large terrace.  Breakfast is a 2-minute walk away so not too far and the supermarket is a 5/10 minute shuttle away.
Golf at La Manga
Boasting 3 fantastic courses onsite – you really are spoiled for choice and each course demands a different strategy. But all very playable for golfers of all abilities.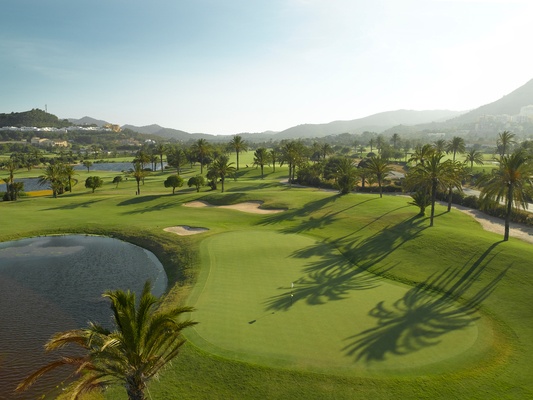 South Course – with a championship-style layout and condition to match, it's easy to see why people rave about the course. Water hazards are plentiful but only punish wild shots. A few great risk/reward holes such as the 18th which is a fantastic par 5 (Arnold Palmer made Eagle here). The par 3 12th was a personal highlight round this course despite the fact I did put it in the water! But what a great hole.
West Course – shorter than the south but requires a bit more strategy off the tee. It's certainly a course when you play it a second time you'll play better. Buy a Strokesaver for €6 at the pro-shop before play and you'll reap the benefits – just don't tell your opponents and you'll take the winnings. And don't be afraid to hit driver and some holes for fun and try reach the green.
North Course – a hybrid of the other two courses, a few quirky doglegs and a few longer holes. It's an ideal starter to the week to get you into the swing of things. It's less tree-lined than the others but you'll find the greens being guarded by some massive bunkers and the contours of the green make reading putts very tough.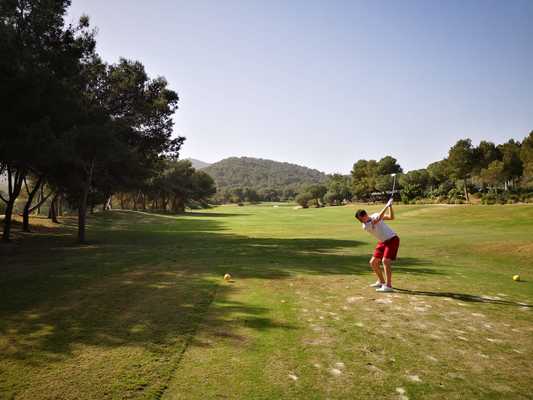 La Manga Facilities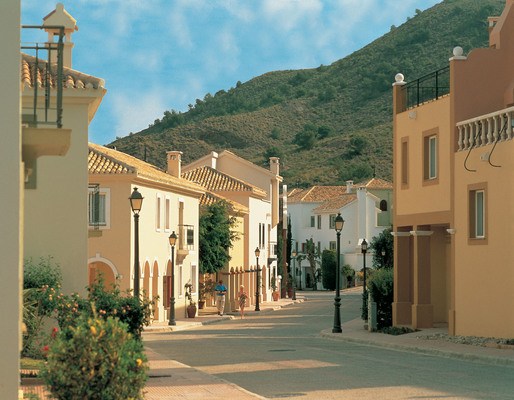 La Manga is pretty much a town in itself with everything you could possibly need onsite. The courtesy shuttle bus can be organised from everywhere in resort and will come to pick you up and take you where needed. The facilities include the following:
A multitude of swimming pools and spa facilities which are fantastic
The Plaza – with numerous restaurants, bars, shops and a supermarket for getting the essentials (or whatever you have forgotten to bring)
Multi-sports facilities too - football pitches, tennis courts and other sporting areas if you've still got energy after 18 holes!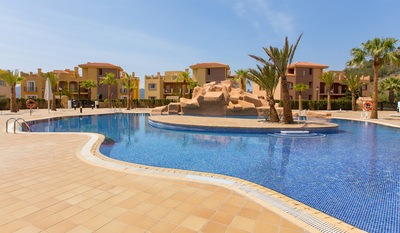 La Manga Top Tips
The North/South Clubhouse (Bar 37) do some amazing burgers and big portions, ideal after a round of golf
For dinner, visit Dante's steakhouse in the Plaza – incredible food and great value. The service is brilliant too.
If you have a spare afternoon, get a taxi into the town of Cartagena (about 20 minutes away) and take in an authentic Spanish town. If you are there for dinner, you've got to have tapas!
If you're looking for a drink in the evening – I'd recommend Mulligans or the First Point. Live Sport on TV and pool tables if the group are looking for something to do.
For a more peaceful atmosphere – either visit the piano bar or The Flute bar in the plaza.
Flights to La Manga
Flights are plentiful from the UK into either Murcia (30 mins) or Alicante (1 hour) so you're never far away. And the beauty of the resort is that once you are there, you don't need to leave!
View below for more information on La Manga Resorts
La Manga Club Principe Felipe Hotel